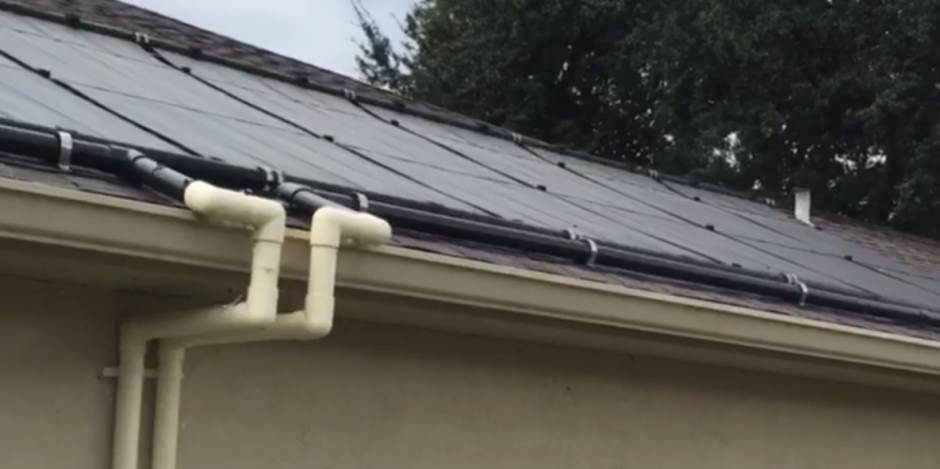 Do you and your family escape the oppressive Florida heat with a swimming pool in your backyard? Fewer things will cool you off on a muggy summer day like a cannonball-dive into the deep end — that is until you get your pool's heating bill! When you look at the rising cost of heating a pool with electric, propane or natural gas throughout the year, even the coolest of homeowners can start to sweat.
But what if you could continue to use your pool heater for those year round cannonballs and pool parties, while offsetting the cost of your pool heating with a solar pool heating system? When you partner with the Lakeland pool heating experts at SOLENERGY, our team will design and install a custom solar pool heating system to reduce your overall energy consumption and lower your pool heating costs.
How Does Solar Pool Heating Work?
You may be familiar with the idea that solar panels can convert the sun's rays into electricity. This is referred to as solar photovoltaic energy (or solar PV). But solar pool heating makes use of a slightly different type of solar energy — solar thermal energy.
When you have a solar pool heating system installed, your existing pump sends the cool water from your pool all the way up to a solar collector in your roof. This solar collector uses the radiant heat of the sun to warm up your pool water, and then it is sent back to your pool for a full day of warm swimming!
The Benefits if Solar Pool Heating
The most obvious reasons to instal a solar pool heating system is to extend your swim season or to eliminate or reduce the reduction in monthly pool heating costs. But there are many other ways that solar pool heating can benefit your Lakeland home all year long:
Environmentally Friendly
Did you know that despite what its name suggests, natural gas is a non-renewable fossil fuel? Natural gas is a very common fuel for more traditional pool heating systems, but by switching to solar pool heating you are reducing the impact your home is having on the environment. Also if you are using electric to heat your pool, then the electricity may come from other fossil fuels like coal.
Reduce Your Other Solar Needs
If solar PV installation is something you and your family are interested in for the future, reducing your overall energy consumption is essential! The less energy your Lakeland home requires on a day to day basis, the fewer solar panels your solar installation will require. And the less solar PV panels you need, the less your solar installation will cost!
Quiet Operation
Since solar pool heating makes use of your existing pool pump and the solar collector is completely silent, solar pool heating is the quietest way to heat your pool. No more annoying low rumbles or hums — just comfortable, quiet swimming all year round.
SOLENERGY: Lakeland's Pool Heating Innovators
In our quest to create better solar pool heating solutions for homeowners all across the greater Lakeland area, the SOLENERGY team has perfected the process of designing and installing integrated solar pool heating systems. When you partner with SOLENERGY, you can rest assured that we will meticulously measure your pool heating needs, and design a system that will offer the maximum comfort and savings for your pool.
And if you are looking to a solar pool heating solution that does not affect the curb appeal of your home, ask about our patented SOLDEK® technology. This pool heating system is installed under your roof and out of sight, while still heating the water for your pool! Whatever your solar pool heating needs are, SOLENERGY has got you covered.
Heat your pool for free, using the power of the sun! Learn more about solar pool heating from Lakelands solar pool heating experts. Call SOLENERGY at 863.279.3000 or contact us today.
Heat Your Pool Using the Power of the Sun!
Learn more by getting in touch with Lakelands solar experts!